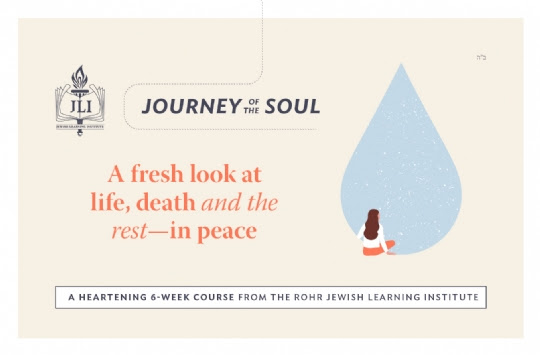 Course Overview 
Who hasn't wondered what happens when we die?
We know what happens to the body. But what happens to the soul at birth and again at death?

- Is there really a "better" place after this one?
- Do our loved ones continue to connect with us?
- Can I relate to an afterlife if I'm not spiritual?

At once practical and powerful, reflective and relatable, Journey of the Soul explores
a journey we all take - join and discover its vastness and meaning.
WHEN 
6 Mondays, 7:00 - 8:30 P.M.
February 8th - March 15th
This course is being offered for both online and in-person attendees
Physicians, social workers & psychologists earn CE/CME credits for attending this course
YOU CHOOSE:
ON ZOOM / IN PERSON 
Richomond Inn & Suites 
2683 Energy Dr, Baton Rouge, LA 70808 USA
THE DETAILS:
Course: Journey of the Soul

Topic: The Jewish view on souls, reincarnation, heaven & hell, and all things "afterlife"

Price: $89 person | Couples - 10% off

Some may need it and not feel like asking for it... so Chabad is offering a NO questions asked 50% scholarship - use code TORAH while registering. 

Instructor: Rabbi Peretz Kazen

Date/Time: 6 Mondays @ 7:00pm | Begins Feb 8 

200+ page Textbook: Included
Course Outline
Lesson One
Demystifying Death Why are humans so anxious about death and dying? For many, the abrupt finality of death makes life itself seem futile. By exploring how our life force—our immortal soul—never ends but merely shifts roles, we begin to view life and death as two harmonious steps on the same journey.
 

Lesson Two
Taking Leave Is death painful for souls? Is my presence felt when I visit a grave? Judaism's pre-burial and burial rituals accompany the soul's gradual transition from a limiting physical life to a completely spiritual one. We discuss those rituals and how, once freed, the soul's connection to the living continues in new and powerful ways.
 
Lesson Three
The Mourning After What is the Jewish grieving process and what is the significance of its various traditions? This lesson provides a meaningful Jewish perspective on grief itself, as well as practical shiva etiquette both for mourners and for those who wish to comfort them.
 
Lesson Four
Where We Go For centuries, human beings have been motivated by the promise of heaven and frightened by the threat of hell. Discover what Jews believe about where every soul goes and how Kaddish aids a soul in reaching true peace.
 
Lesson Five
Where We Go Again Reincarnation: more than a fascinating topic, Judaism provides a practical way to imagine this mystical process, and explains why it is important both to departed souls and to our lives today.
 
Lesson Six
Life Is Short(ish) By now we've come to appreciate death as the next phase in our ongoing personal missions. In our final lesson, we use what we've learned to revisit our priorities in this current phase and find ways to fill every moment with everlasting significance.
When
March 8th, 2021 7:00 PM